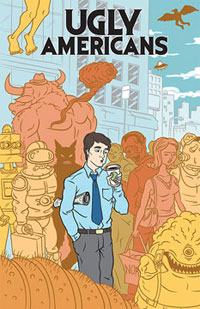 Congrats to our friend Devin Clark… he masterminded a show for Comedy Central, Ugly Americans, which is scheduled to premiere in the first quarter of 2010.
from Comedy Central:
Developed and executive produced by David Stern ("The Simpsons"), "Ugly Americans" (working title) is a half-hour animated series based on an original idea by illustrator Devin Clark, who will serve as a producer. "Ugly Americans" takes place in an alternate universe New York City where creatures from horror, fantasy and science-fiction live among us as ordinary citizens. Mark Lilly, a human social worker for the Department of Immigration, helps new citizens, both human and fantastic, adapt to life in the Big Apple. When he's not helping warlocks, land-whales, vampires and man-birds adjust to human society, Mark is trying to keep his own life in check. Unfortunately, his zombie roommate, wizard boss and demon girlfriend can't always be relied upon for help. Dan Powell is the executive in charge of production for COMEDY CENTRAL.
I managed to get a sneak peek of the pilot, and it's really funny. Mark your calendars!